Welcome to the Homepage of the De Anza Chapter
of the American Rhododendron Society!
Who We Are:
The American Rhododendron Society is a non-profit organization whose purpose is to encourage interest in and to disseminate information about the genus Rhododendron. Members' experience ranges from novice to expert. Society activities include public education, flower shows, seed exchanges, scientific studies, and communication through publications and local and national meetings. ARS chapters are located throughout the United States and Canada and in Denmark, Finland, Holland, Scotland, Sweden and Sikkim.
The De Anza Chapter is composed of American Rhododendron Society members who hold meetings and sponsor events in the "Silicon-Valley" region of Northern California. Non-members and guests are always welcome to attend Chapter meetings and events.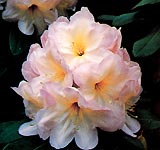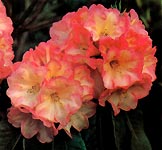 President: Christy Hartsell.......... christy.b.hartsell@gmail.com
Secretary: Erika Enos .......... dble11@yahoo.com
---
Next Meeting:
Sunday, June 14, 2015 - noon to 2pm
At Belinda Brent's Home
341 Grove Dr, Portola Valley
TOPIC:
End of Season Potluck & Meeting
The Chapter will provide a main dish plus drinks and utensils,
members should provide the following (to serve 8):

Appetizers: Last name starting with "J — R"

Side Dishes & Salads: Last name starting with "S — Z"

Desserts: Last Name starting with "A — I"
Please RSVP to: Erica at dble11@yahoo.com or Nan at nanray34@gmail.com.
Direction to the Brent's -
Take Highway 280...

From the North: take Sandhill exit and turn left onto to Portola Rd, left onto Grove.
From the South: take Alpine exit, right onto Portola Rd & turn right onto Grove.

Please park on the street and walk up the long driveway. There will be directional signs to guide you. ' Lunch will be in the meadow. Wear comfortable clothes & shoes and bring a sweater/jacket in case the weather gets chilly.