Welcome to the Homepage of the De Anza Chapter
of the American Rhododendron Society!
Who We Are:
The American Rhododendron Society is a non-profit organization whose purpose is to encourage interest in and to disseminate information about the genus Rhododendron. Members' experience ranges from novice to expert. Society activities include public education, flower shows, seed exchanges, scientific studies, and communication through publications and local and national meetings. ARS chapters are located throughout the United States and Canada and in Denmark, Finland, Holland, Scotland, Sweden and Sikkim.
The De Anza Chapter is composed of American Rhododendron Society members who hold meetings and sponsor events in the "Silicon-Valley" region of Northern California. Non-members and guests are always welcome to attend Chapter meetings and events.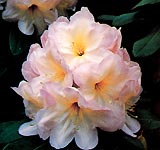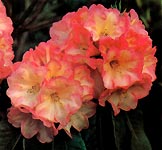 President: Christy Hartsell.......... christy.b.hartsell@gmail.com
Secretary: Erika Enos .......... dble11@yahoo.com
---
Next Meeting:
Wednesday, September 17, 2014 - 5:30 - 8:00 pm
Nan Ray's Home
845 Magnolia St., Menlo Park

EVENT:
Rhododendrons 101 & Pot Luck Dinner
Our meeting will be a "what do you want to know" question and answer session on rhododendrons. Please bring your questions, concerns, sickly leaves ( in a plastic bag), and also your success stories, helpful tips and advice to share with members. In addition, propagation techniques will be demonstrated.

Our Chapter will provide the main dish (pizza) and drinks, please bring a side dish/dessert according to the alphabet list. Please make your dish serve 4-6 people.
Last name starts with:
a - i: Salads
j - r: Side Dishes
s - z: Desserts