Welcome to the Homepage of the De Anza Chapter
of the American Rhododendron Society!
Who We Are:
The American Rhododendron Society is a non-profit organization whose purpose is to encourage interest in and to disseminate information about the genus Rhododendron. Members' experience ranges from novice to expert. Society activities include public education, flower shows, seed exchanges, scientific studies, and communication through publications and local and national meetings. ARS chapters are located throughout the United States and Canada and in Denmark, Finland, Holland, Scotland, Sweden and Sikkim.
The De Anza Chapter is composed of American Rhododendron Society members who hold meetings and sponsor events in the "Silicon-Valley" region of Northern California. Non-members and guests are always welcome to attend Chapter meetings and events.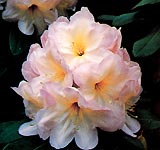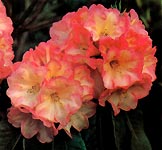 President: Christy Hartsell.......... christy.b.hartsell@gmail.com
Secretary: Erika Enos .......... dble11@yahoo.com
---
Next Meeting:
Wednesday, October 15, 2014 - 7:30 - 9:00 pm
Hillview Community Center
97 Hillview Ave., Los Altos

EVENT:
Species Foundation China Expedition
Last year, our speaker Jason Martinez, went on the journey of a life time and he will share his experiences with us at the meeting. He joined Steve Hootman on an expedition to study Magnolias during the peak of their bloom, in the Yulania area of China. He also had the opportunity to study rhododendrons and other plant species. We will share in his adventure without going through airport security and only for the price of renewing our ARS membership.
Jason currently is working at Strybing, maintaining the Rhododendron and Ancient Plant Gardens, plus developing the Mediterranean Basin Garden. On collecting trips to Costa Rica , as well as China, Jason has been able to bring back rare species to study & propagate.
Join other members for a pre-meeting dinner @ 5:30 @ Pompeii Restaurant, 100 State St., Los Altos (across from CITI Bank Plaza). Contact Alma Fletcher to reserve your place at the Rhodie Table by Tues Oct 14 at 650-851-1334.
Don't forget to bring in your yearly dues and save a stamp!