Welcome to the Homepage of the De Anza Chapter
of the American Rhododendron Society!
Who We Are:
The American Rhododendron Society is a non-profit organization whose purpose is to encourage interest in and to disseminate information about the genus Rhododendron. Members' experience ranges from novice to expert. Society activities include public education, flower shows, seed exchanges, scientific studies, and communication through publications and local and national meetings. ARS chapters are located throughout the United States and Canada and in Denmark, Finland, Holland, Scotland, Sweden and Sikkim.
The De Anza Chapter is composed of American Rhododendron Society members who hold meetings and sponsor events in the "Silicon-Valley" region of Northern California. Non-members and guests are always welcome to attend Chapter meetings and events.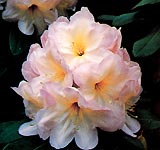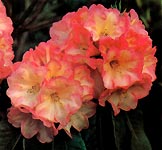 President: Alma Fletcher………..almawfletcher@gmail.com
Secretary: Erika Enos .......... dble11@yahoo.com
---
Next Meeting:
Wednesday, April 20, 2016 - 7:30pm to 9pm
Hillview Community Center, Room 12
97 Hillview Av, Los Altos
EVENT:
Speaker: Mike McCullough
Rhododendron Care - Especially maddeniis
Also: Planning for the De Anza Plant Sale
For this month's meeting we are having our dessert first, actually pizza and then dessert. The second item on the agenda will be planning our plant sale which will be held on April 23rd from 9 am to 1 pm @ the Masonic Hall Courtyard (where we usually store our plants for sales) We will need able bodies to set up and also man the cash register. After we finish with plant sale plans, Mike McCullough will give us a brush up, crash course on rhodie care, especially maddenii. We will also have hand outs about rhodie care for you to take home and share with other rhodie enthusiasts. Since this is high bloom time, please bring your trusses which are blooming right now for a "show & tell" - the real dessert.