Welcome to the Homepage of the De Anza Chapter
of the American Rhododendron Society!
Who We Are:
The American Rhododendron Society is a non-profit organization whose purpose is to encourage interest in and to disseminate information about the genus Rhododendron. Members' experience ranges from novice to expert. Society activities include public education, flower shows, seed exchanges, scientific studies, and communication through publications and local and national meetings. ARS chapters are located throughout the United States and Canada and in Denmark, Finland, Holland, Scotland, Sweden and Sikkim.
The De Anza Chapter is composed of American Rhododendron Society members who hold meetings and sponsor events in the "Silicon-Valley" region of Northern California. Non-members and guests are always welcome to attend Chapter meetings and events.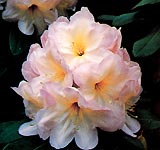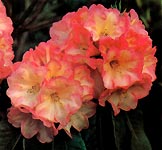 President: Christy Hartsell.......... christy.b.hartsell@gmail.com
Secretary: Erika Enos .......... dble11@yahoo.com
---
Next Meeting:
Wednesday, March 18, 2015 - 7:00 - 9:00 pm
Hillview Community Center, Room 12
97 Hillview Ave. Los Altos
SPEAKER:
Tim Walsh
TOPIC:
Maddenii for Your Garden
Parker will discuss and illustrate older hybrids, created for Northern California, which have proven their worth, plus add some personal notes about their creators. Photos will be from Parker's comprehensive tome "Rhododendrons of California", copies of which will be on sale at the meeting. Parker has been designing landscapes in Northern California for over 40 yrs as well as hybridizing rhodies. He and his wife currently live in Santa Rosa where he tends a thriving garden of container grown rhododendrons.
Still haven't yet paid your yearly dues? Bring your payment to the meeting.